A commenter here mentioned C.S. Lewis' The Abolition of Man recently. It got me thinking about what the most influential books have been for my adult thinking about socio-religio-political topics.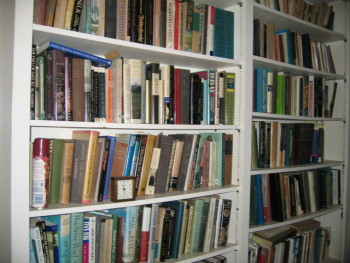 My list would have to include:
Hayek's Road to Serfdom
Fromm's Escape From Freedom
C. S. Lewis' The Abolition of Man
C. S. Lewis' Mere Christianity
Merton's The Seven Storey Mountain
Orwell's long essay Politics and the English Language
Frankl's Man's Search for Meaning
Huxley's Brave New World
I'm sure I omitted quite a few, but these came to mind. (I guess, as an ole Yankee, I am rather freedom-oriented and leave-me-alone-oriented rather than gimme-oriented. I was raised to fend for myself and to shoot my own moose, but that might be old-fashioned nowadays. The "modern" women, apparently, want government to be their help and support in life instead of husbands. That's pathetic - on both sides.)
When I think about writings that influence me, I wonder whether they indeed influence, or whether they articulate half-thought and semi-formed thoughts that were already brewing in the back of my brain from my life experience.
This is a quote from Charles Warman's review of The Abolition of Man at Amazon:



In an ironic conclusion, Lewis predicts that what will be hailed an man's ultimate victory over Nature (such as human cloning?) will actually be Nature's ultimate victory over man. This will occur when we can fully control the kind of people the next generation will be (i.e., how they think), but in the absence of moral standards, this choice will be made arbitrarily; that is, according to purely Natural impulses - thus we have the Abolition of Man as man and the ascendancy of man as animal.



Feel welcome to add your personal list to the comments.