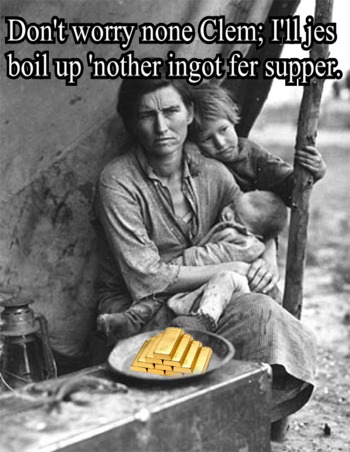 Oh man, do I love getting my investment advice in the comments section of Maggie's Farm. It's Bretton Woods crossed with the Algonquin Roundtable around here.
If you huddle around our investment topic entries, a virtual hobo campfire, burning hyperinflated banknotes, appears in the comments. Everybody's nervously fingering their Mauser triggers and wondering what will happen if they're the first guy to fall asleep with a pocket full of Spanish Main money in their raggedy (but thank god, not leveraged or made in China) clothing. It's great fun.
There are, as they say in the garden, a few hardy perennials. Let's have it one more time, for old time's sake:
-There's going to be a run on banks! They'll run out of currency and you'll have to settle for deposit slips and lollipops!
Um yeah, sure. There's $150,000 on your average mall ATM. But we're all going to be at the window at Mr.Potter's bank trying to get our doubloons before our neighbor does. Then we'll bury it in the yard! It'll be grand.
-Buy gold! Gold I say!
Yeah sure; of course it lost ten percent of its value last week, but hey, it recently passed the value it had - in 1980. Fantastic investment, that. You would have done better to hoard Member's Only jackets since then and sold them at flea markets near colleges now. You are laboring under the illusion that you're hoarding a superior sort of money, and all you've done is gone from being an equities investor, or a plain saver, to a commodity futures investor. And with all your money in one material. Profoundly dumb -- unless you're Hillary Clinton posting on the Internet under an assumed name. And the Internet doesn't work that way. Everybody is really a guy pretending to be a hot seventeen year old girl.
-I bought loose diamonds!
This is my favorite. I remember this one fondly since the first time I heard it on a low-rent golf course in the eighties. A guy wearing hand-me-down clothes telling you he's got all his money in "investment grade diamonds" that he knows how to sell in all the international hot-spots he read about in CondeNast in the dentist's office once. "You know," he says
sotto voce
while shanking a putt, "for when the really heavy sh*t comes down."
Let's do an experiment in "investment grade" diamonds, (snerk) shall we? Buy one. Walk right back into the same place you bought it and talk to another clerk. Offer to sell it to him. He'll offer you 30% below wholesale. You paid retail. Of course, if the world turns to the Road Warrior (snerk) every fat housewife has a diamond, superior in every way to yours, (the skinny wives with big boobs have ten) and holds it simply for sentimental reasons. So in a real pinch, everybody sells theirs and your diamonds are less than worthless. And of course, you're assuming that even with running gun battles in the streets over the last Twinkie in the world, the diamond merchants will still be open. Maybe not. At any rate, it won't be a total loss -- you could make metal cut-off saw blades with your diamonds if you've got enough glue, I guess, and go into plumbing, which is an honest profession.
I tell you what: let's test our hypothesis. Go into the same diamond store with a $100 fiat currency bill (oh noes! the debbil's money!). Ask as a favor if they'd break it into small bills so you can get money for the meter. Now go back in and give them all the small bills back and ask for your hundred. I doubt they'll offer you $30.
But the doomsayers are probably right. You will save a lot of money on your water bill if you drink your own urine to wash down the Kruggerands you're eating in your bunker. I think we can all agree on that.
I'm going to break with a long tradition of never offering anybody any advice. Here's mine: Happy Easter everybody! Use your worthless fiat currency to buy a great big ham and a bottle of wine! Enjoy! And God bless you, every one!