NBC's dismissal of Trump, last week, was probably not a bad decision, depending on your point of view. I consider him a blowhard who does not add much meaningful dialogue to the discussion of politics. He's not a viable candidate for president. I consider his comments about Mexicans wrong and misguided. His statements point to many misguided but widely held beliefs about immigration in our country. Yes, his comments were intolerant. So what? Last I checked, that's a perfectly legal trait to have in this nation where we have freedom of speech. It may not be socially acceptable, though I will not play Thought Police and tell him he can't say these things. I know plenty of people who share his views, and just as many people who applauded his ouster from NBC on the basis of these views. I fail to see why these led to his removal, since Chris Matthews and Al Sharpton are still employed by NBC. Both of these commentators are incredibly biased, and have chosen to be intolerant or racist like Trump. It's also worth noting how they are exceedingly partisan, without facing the kind of repercussions we've seen for other partisan commentators (I guess you have to be a very special leftist to be accorded this kind of treatment).
So what can be said about Trump's removal? Not much, really. NBC has every right to employ whomever they choose. On that basis alone, Trump's dismissal isn't worth talking about. What is worth talking about are the reasons NBC used. Had they said "We do not choose to work with him anymore" or "We really just don't like his comb-over," I doubt many people would pay much attention to this tempest in a teapot. But they didn't. NBC called him out for his comments about Mexicans, citing these as the reason for the parting of ways. It's an odd reason, considering their other employees' stated views.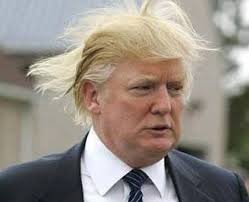 When we discuss issues of commercial entities, bakeries, homosexuality and flags are all 'hot'. Apparently, there are some people who have never heard of free association. These people feel it's incumbent upon them and their groups to use the judiciary process, or pressure government into regulating businesses, to force behaviors that benefit them and how they see the world. They would have government pass laws which stipulate businesses serve everyone, no matter what. But businesses frequently choose to not take on clients for a variety of reasons. Perhaps they do not pay the right price, they may not be in the right locale, they may make too many demands, etc. Ultimately, all businesses have the right to pick and choose who they work for, and with, as clients.
Bakeries asked to bake a cake for gay wedding have every right to say no, for whatever reasons they choose, including intolerant ones. Similarly, NBC has the same right to tell Trump they have no interest in working with him. These two points are intertwined. But the details are tricky. Issues of hiring and firing do have existing laws which limit free association. I can say I oppose these laws, but I will be labeled 'intolerant'. Just because I oppose the law doesn't mean I am fine with people who are discriminatory. I hate discrimination, but I fail to see why there should be laws which force people to 'be good' or act in a manner I believe is 'correct'. Laws like this confuse the nature of society with how we wish society to be. I want discrimination to stop, but laws against discrimination have not ended it. Reductions in discrimination can clearly be laid at the feet of heightened and improved awareness, not laws. Bastiat's famous quote applies:



"Socialism, like the ancient ideas from which it springs, confuses the distinction between government and society. As a result of this, every time we object to a thing being done by government, the socialists conclude that we object to its being done at all. We disapprove of state education. Then the socialists say that we are opposed to any education. We object to a state religion. Then the socialists say that we want no religion at all. We object to a state-enforced equality. Then they say that we are against equality. And so on, and so on. It is as if the socialists were to accuse us of not wanting persons to eat because we do not want the state to raise grain."



When a bakery says "we don't want to bake a cake because we're religious and we don't believe in gay marriage," that's not socially acceptable, but it is not illegal and should be protected by the First Amendment. I don't think it's good business, and that is where my power lies. I'm unlikely to patronize shops which engage intolerant viewpoints of this sort, and groups have the right to protest and boycott these businesses. Still, if that's the how the business chooses to operate, then I am fine tolerating their right to be bigoted - but I don't have to respect them. Their point of view is similar to them saying they are on a diet so they won't make me a donut - hey, if it works for them, great. I'll buy my donut somewhere else.
When the bakers start saying homosexuals can't have the same rights that they do, because their religion forbids them to allow gays those rights, well I'm afraid that's out of bounds and NOT protected by the First Amendment, which not only protects free association, speech and religion, but also certain individual rights like the right to get married. Choosing to work with a homosexual, or Trump, is a choice you can and should be allowed to make. Asking the government to force someone to work with Trump is clearly ludicrous (outside of a breach of contract). If Trump wasn't right for the job, or a religious baker wasn't right to bake a cake, then don't have them do the work for you.
NBC cited Trump's statements as the reason for releasing him. I'll reiterate NBC was well within their rights to use those as a reason. What's strange, in the case of the baking and Trump, is the double standard. NBC has many other people on their payroll who say incredibly offensive and stupid things regularly. It's a bit odd to let Trump go and not release Sharpton or Matthews. This is the nature of the boorish behavior our politically correct society has created. It's also indicative of just how bizarre our nation has become. Trump didn't just suddenly become outrageous. He's always been outrageous, and he's funded Hillary along the way. Meanwhile, those supporters of gay rights who want bakers to bake cakes for gay weddings have remained silent about NBC firing someone who lives an outrageous lifestyle.
Some felt NBC was in a win-win situation by dumping Trump, mainly because if he ran for president, airing his show would require Equal Time to his opponents. So they can 'look good' getting rid of him and avoid the Equal Time issue. However, if they ran the show on cable, this would not be the case. Since the show is mostly aired (in reruns) on cable, and Trump was going on hiatus while he ran for president, this argument holds no water. Furthermore, it's worth noting that the show (which I haven't watched in ages) raised quite a bit of money for charity. The consequences of NBC's action does little to harm Trump, whose hard-core followers love him more because of the double-standard, but actually harms the income of various charities which benefited from the program itself.
This 'tolerance' campaign is based entirely on the concept that intolerance of intolerance is tolerance. It is fine to be intolerant of people who don't agree with 'socially conscious' attitudes. The 'socially conscious' are so correct that anyone else must be evil and banned, shunned, or otherwise ostracized. This perverted mindset is becoming so pervasive it is undermining the moral code of our nation. Many young people are actually beginning to believe this nonsense. We're essentially raising a nation of 'I mean well and will prove it by condemning all things I consider bad' social fascists. Ignorant of the hypocrisy they employ, they take umbrage when it is mentioned they've used a double standard. The classical rule of tolerance is this: Tolerate persons in all circumstances, even when their ideas are false or silly. Progressives call the willingness to tolerate opposing views cowardice. I want to be clear - I don't feel you need to respect the intolerant, just their right to be intolerant.
Corporations are suffering from this double standard, as well. Recently, TVLand took The Dukes of Hazzard off the air because the car's name is the General Lee and there is a Confederate flag on the roof. The company which owns merchandise rights to the show has ended production of a profitable line of products. The new owner of the original car is having the Confederate flag removed. I understand some people believe the Confederate flag is 'racist', but I'd argue it's just a flag. If we truly wanted to get rid of a 'racist' flag, we should ban all flags, presumably starting with the current U.S. flag, which was/is flown prominently and frequently at KKK rallies. Which means firms that continue to sell the American flag but will not sell the Confederate flag are employing a massive dose of hypocrisy. I flew a Confederate flag all summer at my house back in 1982. I lived there with 8 other young men, and we had many parties which included people of all races and belief systems. The flag was a symbol of our 'rebellion' against the norms of society, a common theme among young college-age folk. I continue to see Confederate Battle Flags on college dorm walls (probably not as many this year - saw plenty last year).
Firms that ban the sale of the Confederate flag, but which continue to sell Mein Kampf, trade Nazi memorabilia, sell the writings of Lenin, Stalin, Mao or any other mass murderer, produce Che Guevara t-shirts and clothing (Che being one of the most outrageous racists known to history), Charles Manson gear, or anything of this nature are grossly out of touch with reality.
It's worth noting that while the Confederate Battle Flag is often considered the flag of the Confederacy, so are many other flags. I wonder how people would feel about the Bonnie Blue Flag? Or the Stars and Bars? Or any number of other flags of the Confederacy? Certainly all these flags must be racist and banned? What about any flag with a swastika on it? For what it's worth - I found all of these on Amazon. Will banning them make the hatred they supposedly cause subside?
We live in an uncomfortable world. Not everyone and not everything is going to conform to our view of 'how it should be'. That doesn't give us a right to force others who don't share our view to live life as we believe it should be lived, or buy things we don't believe they should be allowed to buy because it 'offends' someone or some group. We don't get to choose which flag is 'good' and which is 'evil' - flags are merely symbols, they cause no harm. Finally, we can't force all our politicians to share our views, and when they espouse a view we find difficult or uncomfortable, we have the right to choose to whether we will vote for them, listen to them, work with them. But we really need to be aware if our choice is employing a double standard or causing some unintended consequences.
I don't care that Trump was fired, and I don't care if Wal-Mart, Amazon or ebay stop selling Confederate flags. In these cases, the companies in question have every right to make choices which they feel impact their businesses. However, there is a massive hypocrisy at work which mirrors a deeper hypocrisy cruising through the veins of our nation. It's an unhealthy trait which seeks to deprive a few of their liberty and freedom of choice - however offensive those choices may seem - in order to appease a feeling of 'greater good'. It is a tyranny of a majority slowly reaching fever pitch. Right now it's just a few stores and companies making business decisions, which is acceptable. It won't be long before politicians choose to make laws that make those choices for us. Progressives may feel my version tolerance is 'cowardice', but I feel that people should be allowed to be who they are, even if they are assholes (that includes assholes like Progressives). When Progressives (and Conservatives) cross the line and pass laws, or seek legal injunctions, to make me act and think like them, I'm pretty sure we know who the cowards really are - the ones who use force and coercion to get what they want.
Boycott Amazon because they sell a Confederate Battle Flag? Sure. Don't watch The Celebrity Apprentice because Trump is a joke? No problem. But in either case, remember you need to pay attention to some larger issues that your focus has missed: