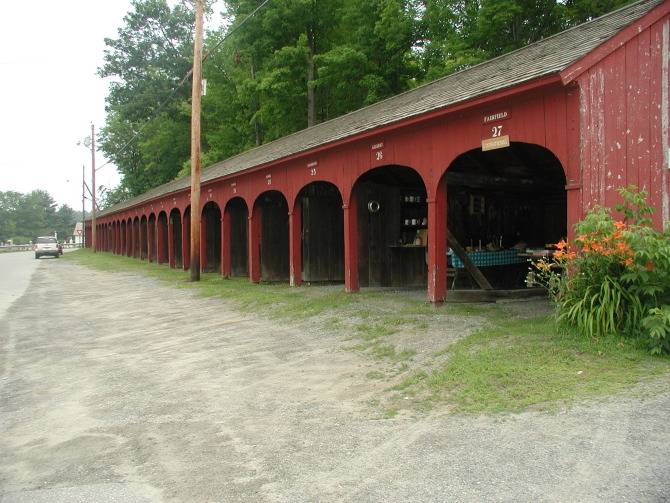 My pic of a Congregational church carriage shed, just north of Hanover, New Hampshire. You'd be assigned a pew, and horse-and buggy shelter, by seniority. This was at a time when Congo services went on for several hours, at the least. Needed to protect horse, and buggy or wagon, from the northern elements.
Vanderleun: My re-birthday
UN Tackling Afghanistan's Greatest Problem. Global Warming
Global warming stopped 16 years ago, reveals Met Office report quietly released...and here is the chart to prove it
Meanwhile, in California, A Grand Experiment to Rein In Climate Change
No, that's not from The Onion
In the health-totalitarian state, citizens are required to keep themselves healthy and to turn in regular blood results to the health authorities.
As protesters dressed as Nazis riot in an Athens ruled by Brussels stooges, giving the Nobel Peace Prize to the EU is beyond satire
August 2012 US Report Shows Libya on the Road to Becoming A Failed Islamist State
State Dept. rejects White House story on Libya:



In their desperation to avoid responsibility for the Benghazi debacle, Obama and Biden have pointed fingers in two directions: at the intelligence community for reporting incorrectly that the incident was a protest over a YouTube video clip, and at the State Department for not providing adequate security for the Ambassador.



The Obama-Clinton "Prisoner's Dilemma"
Obama bites the hand that feeds him
Honey Badger don't care
Rupert Murdoch Predicts 'Nightmare for Israel if Obama Wins,' Accuses White House of 'Still Lying About Benghazi'
Devastating Ohio Editorial: Obama's Handling of Libya Indefensible
Democrats' Folly: How bad will Obama's loss really be?
From Romney's Edge:



Romney's Bain Capital, the object of constant Democratic denigration, invested private money in the following companies:




• AMC Entertainment
• Burger King
• Burlington Coat Factory
• Clear Channel Communications
• Dominos Pizza
• Dunk n' Donuts
• Guitar Centers
• The Sports Authority
• Staples
• Toys "R" US
• Warner Music Group




By all accounts, the main issue in this presidential race is jobs and their creation. One can only imagine the aggregate employment created by these companies. Once again, the key phrase here is "private money."




President Obama, playing businessman with your money, invested in:




• Solyndra
• Ener 1
• Beacon Power
• Abound Solar
• Amonix Solar
• Spectra Watt
• Eastern Energy




All of these companies have two things in common: they were, coincidently, all contributors to Obama's campaign, and eventually all went bankrupt.