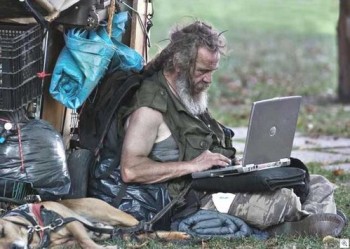 Our Dylanologist is back from his European travels. He asked a passer-by in a Paris park to take this photo of him, on right.
America's fastest dying cities. Creative destruction?
The Repub protest continues in the House.
The cost of PC academic majors. Mankiw
The hedgies are hurting. But it's a great time of opportunity for them too: cheap credits and loans that will pay off in a while.
What's a "book town"?
Rove: What McCain should do now. Good advice.
I want my culturally-appropriate health care too.
Is Obama's tire gauge like Jimmy Carter's sweater? Related: First presidential campaign plane in history to have all American flags removed. Related: pundits begin to worry about Obama. One quote:
The bottom line: liberal pundits — following months of analysis by their conservative counterparts — had figured out that despite the best possible terrain for the Democrats to recapture the White House, the Democrats (with a whole lot of cheerleading from the mainstream media) have chosen a thinly experienced, irresolute, underachieving and obnoxious standard bearer. And his excuse-mongering just makes it all the more irritating.

It is not clear what provoked the soul-searching or why reality didn't dawn on the pundits sooner. After all, they knew all along that he had virtually no experience and that he often sounded bizarrely confident about his nonexistent credentials.
Nice wrapping paper, but is there anything in the box?
Also related, via Belmont, Alinsky's Ten Rules for Radicals and how Obama is breaking the rules:
RULE 1:"Power is not only what you have, but what the enemy thinks you have." Power is derived from 2 main sources - money and people. "Have-Nots" must build power from flesh and blood.

RULE 2: "Never go outside the expertise of your people."

RULE 3: "Whenever possible, go outside the expertise of the enemy."

RULE 4: "Make the enemy live up to its own book of rules."

RULE 5: "Ridicule is man's most potent weapon."

RULE 6: "A good tactic is one your people enjoy."

RULE 7: "A tactic that drags on too long becomes a drag."

RULE 8: "Keep the pressure on. Never let up."

RULE 9: "The threat is usually more terrifying than the thing itself."

RULE 10: "If you push a negative hard enough, it will push through and become a positive."