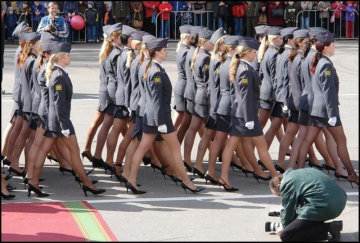 Not your father's Ukrainian Army (photo)
Greenies want us back to the Stone Age. After you, friends. Rick Moran has some job ideas for when the Greenies take over. Related: Have you checked in with Junk Science recently? Related: What do warming religionists do when their faith is challenged? Am Thinker
Just meat.
Press privilege? I agree with Glenn. We are The Press, aren't we? In a land of free speech, anyone can be The Press.
Two current examples of government making things worse. Viking
The two Americas of Michelle Obama
The ten top reasons bloggers fail. Hawkins
Our Gwynnie on Spitzer:
Interested in hearing from Dr. Joy.  This guy is an angry, ruthless man who used the law to crush people for his personal political advantage, dropping charges after the headlines faded, and eradicating billions of shareholder value (mostly pension fund) from the companies he assaulted.  It seems his aggression was somehow sexually inspiring (wrong word) to him, that he sought a sexual outlet for his violent inner self.  Scary man!
Similar thoughts from Luskin
Also, over heard this morning at the coffee shop by a guy looking at the Spitzer headline:
Stupid bastard. These people think they're above it all.
Also, at Insty:
 "There is no honorable alternative to Spitzer's resignation." Which doesn't narrow the field as much for him as it might for some . . . ."
Also, a quote from Spitzer the prosecutor:
"Never talk when you can nod, and never nod when you can wink, and never write an e-mail because it's death. You're giving prosecutors all the evidence we need"
Editor's comment: The guy's political rise was a mirror image of Rudy Giuilani's, and his personal life is like Bill Clinton's. But Spitzer won't get away with this the way Bill did because he is an unlikeable person: having to pay for it is the  proof.