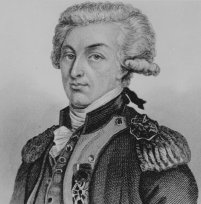 When the Marquis de Lafayette snuck out of France against the King's wishes in 1777 to join the many unemployed French - and some German - officers who wanted to aid the Revolutionary cause, he was 19 years old, with a pregnant, lovely - and enormously wealthy - wife at home. He loved to spend her money, but what he really wanted was the glory of his military ancestors, most of whom, like his father, died in battle.
And, like any French aristocrat, marriage was no obstacle to his skirt-chasing.
A wonderful summer read: Adopted Son: Washington and Lafayette, and the Friendship that Saved the Revolution.