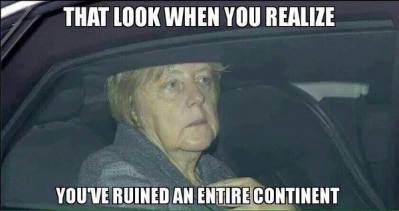 Boudreaux: The Lament of the Merely Decent Economist
KATZ: The World Needs More Men - Not Boys. Not Social Justice Indoctrinated College Weenies. Men.
Animals: The Wilding of America
Yes, we have lots of bears

Georgia Tech Climatologist Judith Curry Resigns over 'the CRAZINESS in the field of climate science.'
David Brooks Seems Pretty Upset That Trump Does Things Different Than Other Elected Leaders
David has always lacked testosterone. That's why he was hired.

The Ideological Reasons Why Democrats Have Neglected Local Politics - After losing many races in 2016, the party is looking to regain power outside the federal government. But in many ways, it's not set up to make that change of emphasis.
New from Detroit: The $15 minimum wage is racist
Ted Kennedy Secretly Asked The Soviets To Intervene In The 1984 Elections
Carter, Democrats Asked Soviets to Stop Reagan
Broken: The Sickening, Stale, and Worn Out Narratives of the Left:



Instead of picking apart mistakes by Trump, let's focus on the damage the Democrats have done. It's legion. In the guise of economic "fairness," they gave us the worst economic recovery since World War II. They simply ground to a standstill our economic engine, causing massive unemployment and a job market that gives no hope to Americans for the future. They ruined our alliances and fed our enemies under a horrifyingly stupid, feckless president and secretary of state. They laid the groundwork for ISIS to become a power and were virtually useless in dealing with that organization. They destroyed our borders under the idea that it is racist to have them, flooding us with illegal aliens who don't care a whit about American values of the past, and they steal from our kindness. They were on the way to destroying health care, paving the way for massive government control of doctors, insurance companies, and yes, us as patients. The evidence is in: Obamacare was a failure. They lied to get it passed, they lied to keep it, and they are lying about how good it is now. Thankfully, most people understand they now have a pig in the poke that costs a ton, and they can't use it. They corrupted our bureaucracies in Washington, destroying the faith the American citizens had in their government.




They did a lot more damage than this short list, but the point is that they ruined everything they touched.




Make the Inaugural Celebrity-Free!
In Departure from Obama, Trump Picks Qualified Ambassador to Japan


Obama's failures are Trump's opportunities

Three Bungled Stories On Russian Meddling All Demonstrate The Same Big Mistakes
Poll: Majority of Democrats Think Russia Manipulated Vote Totals
The lies work

PEOTUS TRUMP Knocks DNC For Cheating for Hillary During Debates
Julian Assange: Media Is Colluding with Democrat Party in America
Congress! Listen Up, Hollywood is Talking Here
Almost 1,000 Cars Torched Around France On New Year's Eve: Government Insists It 'Went Particularly Well'…
To Fix the Department of the Navy - Kill the Mabus Legacy
Palestinians face budget cuts after sharp fall in foreign funding