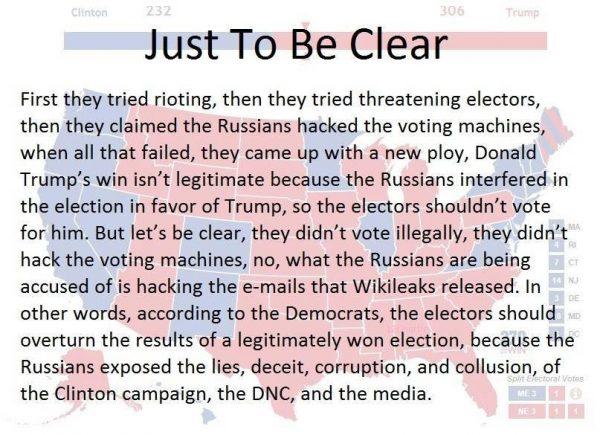 Image above via Insty

Record Number of Manatees Killed By Boaters This Year
12 Behind-the-Scenes Secrets of Private Investigators
What If Consumers Just Want to Buy Junk Food? Americans may say they're seeking out healthier fare, but sales figures tell a different story.
Aging Is Reversible—at Least in Human Cells and Live Mice
Soon, married Italians might not have to promise to be faithful
They ignore it anyway, because amore and the animal urge to merge

People Are Freaking Out Because Obama Just Said 'Merry Christmas'
Isn't it a hate crime?

Hate Crime Hysteria - A "victim" of a high-profile anti-Muslim incident recants, embarrassing New York politicians who bought her story whole-cloth.
NYT Blames Winter Chill on Global Warming
California Governor Jerry Brown: 'We're Ready to Fight' Trump on Climate Change
Why doesn't California secede already? No civil war, guaranteed this time

Vulnerable Democrats Suddenly Open To Replacing Ocare
The Left Is Enraged Over Trump's New Ambassador to Israel - Because he - wait for it - supports the Jewish State.

Obama Criticizes The Electoral College, Calls It 'Vestige' Of Earlier Version Of Gov't
Wrong

This is a revolution: There has not been such a transition since Roosevelt in 1932:



... there was never any serious argument for reelecting the Democrats, their whole campaign was to defame Trump as a sexist and a racist. There was never a jot of truth to any of it, as his cabinet appointments are showing. Trump's popularity is rising steadily and most Americans think Obama has already gone as president. The president-elect is driving a bulldozer at 60 miles per hour toward the wreckage of decades of misgovernment and misinformation, while the departing incumbents crawl around on their hands and knees complaining that the lights have gone out. For them, they have.



It was a Hope and Change election
Michelle Obama says America is entering a time of hopelessness
Trump Gets as Serious as Texas
Trump might be a wackjob, and I did think so, but I can't object to his employees who will do the real work. Even some of my ardent Dem friends are hopeful. Donald may have ADD or Bipolar Disorder, and is a Democrat at heart, but with Pence and Priebus in charge, and The Donald as larger-than-life figurehead, seems like a promising mix...We'll see.
New York Times writer goes insane over President Trump



"Lawmakers are overall the reason we have the problems that we have, because they think that they're the smartest people in the world and they sit in D.C. and talk to themselves, and if you don't sit on the cocktail circuit there you don't know anything about anything," said a senior transition aide. "I think they're intimidated by a guy like this — they don't know him and he doesn't owe them anything."




Fun with Socialism: Venezuelans Protest Over Worthless Cash
At Christmastime