With the gun control measure failing miserably in the Senate, it's thought that the next thing Congress will turn its attention to is an online sales tax.
Senate planning vote on Internet sales tax bill
Internet sales tax faces Senate vote, Obama backs
Marketplace Fairness Act, Bill To Tax Online Sales, Moves Toward Senate Vote

Like that.
As the bloggers fall all over themselves decrying this outrage to humanity, bear in mind that the entire sales tax issue is inconsequential compared to what's really going on.
I thought the following deserved a repost at this point in time.


---
Congress has only been talking about taxing online goods for, oh, about as long as the online has existed. But without any kind of precedent or track record to go from, they could never pull it off.
Until now.




A wave of states, including Virginia, have passed laws that will require consumers to pay sales tax on all Internet purchases as soon as next year.




For states struggling in the troubled economy, this could mean $23 billion in new revenue each year, according to the National Conference of State Legislatures. Had online retailers collected sales tax this year, Virginia would have added nearly $423 million to its coffers, while Maryland would have seen $376 million and the District $72 million, the group said.



Now they have a track record (at least on paper) to point to and, sure enough:



The movement in state capitals is driving newfound support for a proposed bill in Congress that could make collection of sales tax a standard practice on the Web, no matter where a consumer logs in to shop.




Like you, my hackles bristle reading such words, because the Web is supposed to be free, Free, FREE! Always has been, always should be.
Or, should it?


Not to play the bad boy here, but I must admit the article inadvertently makes a pretty good point when it says:



Bricks-and-mortar retailers are cheering the moves. For years, their online rivals have resisted charging sales tax, giving them a price advantage.




That is, if you consider half the cost a "price advantage".
In other words, the point it inadvertently makes is that the tax is nothing compared to what's really taking place out there.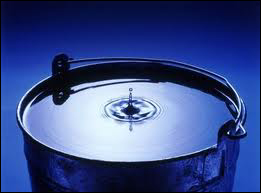 Artist's conception


Consider some of the things I've bought for my boat over the years:
— Inlet valve for water hose, $56 at the store, $26 online
— Starter motor for engine, $278 at the store, $168 online
— Fuel pump for engine, $115 at the store, $59 online

— Macerator pump for toilet, $254 at the store, $156 online
— Packing for steering boxes (needed 6'), $14/ft at the store, 60' roll for $13 online

And then there was discovering there's a whole new genre of printer ink out there. A 4-pack for my Epson printer is $63 at the store, picked it up online for $9.95. And don't forget used books for a penny.

Eventually the article quits talking about taxes and gets down to the nitty-gritty:




Prices are so low online that retailers have long decried what they call the "showrooming" effect. Customers visit shops, try out different products and then buy them cheaper online, sometimes on their smartphone while they are still standing in the store.




Guilty as charged. I removed my bad starter, noted that the model number had long dissolved away in the salt air, so I hauled it into NAPA, had the guy look it up, then noted that I couldn't afford it at the moment but had him scribble down the number "for next time". I then promptly spent a whopping five minutes online and saved a hundred and ten goddamn dollars, free shipping included.

The reason it's hard to feel sorry for NAPA is raised by the obvious question, if others can sell these official name-brand parts for this price, why is NAPA so much higher? I would have happily paid thirty bucks more to support my local community — plus, you can take it right back if it doesn't work — but a hundred and ten? That's just too big a gap, and you see that same incredible gap in all of the above prices.

And I specifically mention 'name-brand' parts because we're not talking about knock-offs here. All of the above parts were the real deal, up to and including the o-fficial Epson printer ink.
As for just why NAPA and the rest are so much higher, I imagine by the time the dust settles, "incredibly high transportation costs" will be a big factor, and by the time that dust settles, it'll all come back to our dear EPA and its massive regulations and taxes, all endorsed by Democrat-approved higher gas prices. (Higher gas prices, I remind you, means you drive less, which means you're saving the planet and thus sparing the lives of countless polar bears everywhere)

So it's kind of a funny problem with a number of different angles. If you support your local community, then you should welcome an online tax if it'll help keep the playing field level, right? Isn't that what fair competition is all about, a level playing field? What about tariffs on foreign imports? Aren't those designed to maintain a certain equality in the market? Why is the Internet any different? To the brick-and-mortar establishment, isn't the Internet also a 'foreign' competitor?

On the other hand, there's no fighting progress, right? And if businesses can't compete with their online competitors, well, that's what the buggy whip industry bitched about. "It's just not fair!" they whined to the empty corridors of history.
Your thoughts on this are welcome in the comments. As you can see, I'm somewhat torn, in that I really do like supporting my local community, plus having the ability to immediately return a bad part, and I don't mind paying a bit more for the privilege, but it's the gap that's so disparate. Twenty or thirty bucks, sure. A hundred and ten? That crosses the line.