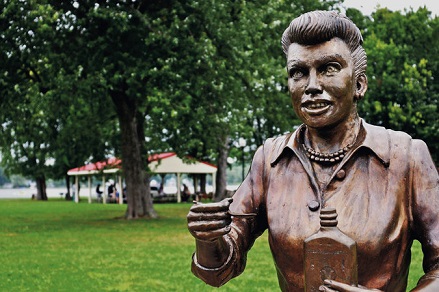 I don't want to write a commentary on the violence in Charlottesville. What happened is terrible, wrong, and any discussion of violence begins and ends with the violent acts themselves, not the activity commentators choose to associate it with. I rarely take part in group protests or political gatherings because the likelihood of one outlier who wants to impart damage is very high and I neither want to be associated with, nor a victim of, poor individual choices.
I do want to write a commentary on the removal of icons and monuments. In Tuesday's morning news, Bird Dog posted an article about Confederate statues in the Capitol building.
Before I dig in, I want to point out that if a statue triggers your emotions, I suggest you think long and hard about why you're having an emotional response to an inanimate object. I'd further point out that if these emotions regarding the statue are related to taking offense, or increasing your anger or hatred, you may want to see a therapist. I'm not a psychologist or psychotherapist, and maybe one of our other writers who are in that field can elaborate (or even tell me I'm wrong) about this point.
Consider one fact. Since Monday, monuments around the US have been removed, sometimes forcibly, in an angry response to Charlottesville. Taking this further, New York's governor, and NYC's mayor, have decided to review and remove 'symbols of hate'. One NYC councilman said "if not hate, at least symbols of hurt." I'll have to send him my list of statues that 'hurt' me.
I think politicians, and people, get bent out of shape over strange things. When I see virtually any protest forming, I begin to think "Don't those people have better things to do?" It's been a long time since I marched or protested or did anything political in a group setting. I generally don't like aligning with large groups that claim to speak for me. But a bigger personal issue is the current mindset is the assumption that if you don't agree with removal, you must somehow be sympathetic to the white supremacists. Thought Police abound in today's society, driven by emotions of hurt and hate. Moral equivalency is employed with alarming regularity, often unnecessarily and ignorantly.
I'll relate one experience I had in which I'd have to admit I was emotionally 'triggered'. It was a great learning lesson. I was in college. I was working on a TV show about hunger for the college station. A speaker arrived and handed out leaflets. One person pasted several of them on the set. It was an elephant with "GOP" written across his chest, preparing to drop a nuclear bomb. This was 1984, I was 22 years old and Reagan was being protested regularly on campus. I stood up, stated my opposition to the leaflet on the set, saying it neither had anything to do with hunger, and had everything to do with politics which we weren't discussing. I was told to be quiet and do my job. I protested again, saying it "offended my sensibilities" and that I couldn't work on a project like this. The professor who managed the station walked over, put his arm around me and said "you will be asked to do difficult and uncomfortable things throughout your life, and on your job. If you allow your emotions to get the better of you, it will cost you your job. Today, if you walk off the set, you will fail the day's project." I walked off the set, took my "F" for the day and still got an "A" for the class. But I learned a lesson. Don't let your emotions overwhelm you. I could have done the work and still been effective at my job. Today, I guess I could've sued for a "hostile workplace."

Some writers are willing to compare the existence of Confederate statues in the US to the very lack of Nazi statues in Germany.
There are, in my opinion, huge differences and the comparison is a false one. This isn't to say Confederate leaders were good people, just and wise, or people of necessarily great merit in today's world. Some were, but most were also not horrible people in the same fashion as Nazis, Lincoln even commented they were just like people in the Union, worshiping the same God, wanting the same things. We shouldn't be asking why these monuments exist for people who some find repulsive. We should be asking why are we so quick to pass judgement on history and values which are more or less antiquated and trying to compare them to modern conceptions of evil.
There are statues around the world to cruel leaders who represented the 'best' of their time, or some other set of values which locals adhere to. Genghis Khan, Vlad Tepes, several brutal English kings such as Edward Longshanks, French Kings of various bloodthirsty type, Robespierre, Stalin, Mao (who only starved and killed millions)....to name a few.
The statues have varying interest or value. Many are related to national identities, many are related to local history.
I'm not opposed to removing statues of Confederates. But I am opposed to removing statues based on modern conceptions of right and wrong in order to salve guilt about our past.

I will expand on this a bit. Why was it OK for President Obama to have his picture taken in front of a murderer? His photos in Cuba, with Che Guevara in the background, were highly offensive to large numbers of people, not least the Cubans who escaped his murderous activities. Che may not have been a strict racist (he did write quite a bit about the need for ending racial injustice, but he rarely wrote about inclusion and often wrote about exclusion). People will justify his non-racist stance on the basis of his having a mulatto girlfriend. But, of course, having a black friend really doesn't mean you aren't racist. I know, because when I point out that I have black friends during discussions on racism, it's laughed off by Progressives as meaningless. But to Progressives who like Che, it's somehow meaningful. So let's just say Che was racist, to a fairly large degree. Because he was. If racism and murder are wrong, then Obama's approval of those pictures sends a mixed message.
I don't really have a problem with Obama having taken a picture with Che's image in the background. After all, I have several just like it. I went to Cuba last March and took pictures. Che has a very mixed response from the populace there. Some love him. Others put up with him. I have a feeling, as Cuba modernizes and learns the full extent of his murderous ways, they will remove many of his images. Taking them all down would be a mistake. I had my picture taken for 2 reasons. First, he is an important part of history (I also have a picture of myself at Marx' grave for the same reason), and I respect history, even the worst aspects of it. Second, if his images are removed, I'll have proof that I was there prior to people choosing to whitewash their brains. It's my opinion that Che's image, for better or worse, is a part of Cuban history, and keeping his image will forever remind us of the worst aspects of that history. Plastering over it won't make him go away, and may even lead people to believe what he stood for is OK since someone in power felt it was a good idea to remove him from history.
US history has its own worst aspects, many of which happened with the Civil War. While the Civil War was sparked by slavery, and certainly this was the primary issue of the time, it was about states' rights, too. The Confederates' Supremacy Clause does not alter the fact that states' rights played a role, since states' rights is still a major issue today. To be completely clear, slavery was wrong, and while most Confederate leaders were supporters of slavery, there were Union leaders who had slaves (Grant's wife owned them, and Grant had one until he freed him in 1859). Lincoln himself was opposed to slavery, but also made it clear when he ran for president that ending it was not on his to-do list, nor did he think blacks should have the same rights as whites. Lincoln was no abolitionist. His desire to free slaves was a personal desire, but it was primarily politically motivated. However, states' rights is still up for discussion, even if the primary motivation for states' rights during the Confederacy was based on slavery and they ultimately rejected those own rights in their own Constitution.
These facts lead us to a logical conclusion, and it's unpleasant. We're going to have to tear down every statue because of the flaws inherent in so many individuals. Even those we find 'great' leaders had major problems related to 'hurt' and 'hate'. Jefferson is lauded with statues and a massive stone monument - but was a slave owner and even kept one as a mistress. Washington had slaves. Adams didn't have slaves, and hated slavery, but couldn't he have done more to end slavery with his role as a member of the Constitutional Convention? Ultimately, we'll have to ask whether or not any person is worthy of a statue, because everyone's got a problem of some sort, and everyone is likely to 'offend' somehow. In fact, Robert E. Lee opposed the creation of Coonfederate statues, because he felt they would ultimately divide people. Which brings up a question - why build monuments at all if they are likely to offend at some point in the future? Furthermore, once we have them, won't taking them down 'offend' certain people who enjoy or like them? Even Teddy Roosevelt is under attack and who knows which historical figure is next? All you have to do is present a case of presumed 'hurt', it seems.
Are statues offensive, or is being offended by them is really just an individual choice to find offense in whatever suits us at a particular time? I don't believe statues represent statements of society in every single instance. Yes, I will agree that slavery is wrong. But do even hated figures deserve to have a grave desecrated? I don't believe Nathan Bedford Forrest deserves a statue, or a place of honor. But at the time of his death, many citizens felt he did. That was their choice. That situation has changed today, and removal is fine if the proper course of action is taken. But let's also demand Seattle remove Lenin, while Arnhem has to take down Stalin. Clearly, the case for 'hurt' and 'hate' which statues seem to project is purely situational. It's hard to argue that it's about any kind of universal qualities which people hold.
I don't understand the Confederacy/Nazi comparison for many reasons. To start with, post-war Germany outlawed the Nazi party and all its symbolism. The Nazi ideology isn't memorialized because it's memorialized in laws which prevent the construction or showing of anything related to them. The Allies required all Nazi iconography be removed (looks like some trees managed to survive somehow). During the Reconstruction, former Confederates were needed to help stabilize the political and economic structure of the South. Taking an oath to abide by the Constitution and uphold the Union was enough to get back into good graces. Those Confederates continued to rule the South, unlike the Nazis, who were prevented from holding public office under de-nazification.
For another, the Confederacy is a very meaningful part of our national history, whereas Nazi Germany was an aberration in Germany's. Today, people (mostly on the left, in my experience) call for an Article 5 convention. This essentially acknowledges the right of states to
secede. If such a convention makes changes to the Constitution, states have the right to not ratify. The only logical outcome is secession. Take it a step further, and remember Hillary supporters in states she won called for secession (funny how it was OK when they
want it, but not OK when South Carolina wanted it). Point is, if states' rights, and the ability to secede, was not the issue in 1860, then the Civil War shouldn't have been fought, and then we have to ask why is it fine today? The entire war is intertwined with a host of Constitutional and historical questions and anomalies. Nazi Germany was essentially a coup that barely followed legal methods (and eventually abandoned legality altogether). How can the Civil War compare to the rise of Hitler? They have so few similarities.
Finally and probably most importantly, we can't apply today's moral values to the past. Nazi Germany was recognized by many as a totalitarian state, while the Confederacy was following a perceived socially and legally acceptable path. Nazis first won people over with passion and pomp, then with outright terror. The Confederacy, aside from a few small pockets, didn't have to convince many people of its place in the political landscape. Slavery was never a good thing, yet for many years it was a normal part of everyday life, going back deep into history. In many cultures it was simply accepted. We can decide they were wrong for believing it, but we can't fault them for believing what was common in their time. Similarly, we shouldn't apply geographical values to areas they don't fit. While I was born in a city, I was raised in a rural area, and now I live in a city again. The values here are extremely different from those where I grew up. Believing in the subjugation of a people today, as Nazis and other white supremacists do, is not equivalent to the belief, in 1850, that slavery of any kind was justified. Today there is no generally accepted moral code that stipulates slavery is or was justified. Support for subjugating people is a fringe mentality. But another fringe mentality is those people who believe themselves so intellectually elite they can impose their values on others through force of law.
If a community decides to tear down its Confederate statues, then let it. But the current trend of outsiders, both in protest groups, and political entities, demanding the removal of something they disapprove of is incredibly presumptuous. Let the people decide. It's their right, as given by the Constitution, to do so.
My sons, long ago, once asked me about the Civil War when we were visiting Fort Sumter. I pointed out to them it was a painful episode in the nation's development. But we should remember both sides' roles equally because while slavery was wrong, the Confederates also had positive points and qualities, too. I pointed out we should remember them not only for those positive qualities, but also to remind ourselves that we're not perfect, either. There is no moral equivalence taking place here. That implies that supporting history is the same as supporting outdated ideas.
The real problem is identity politics. When we choose to define ourselves as white, black, Asian or Hispanic, or Catholic or Protestant, or by our political alignment, and we join activist groups which promote and defend those identity politics, we create a divisive culture. We live in a culture that has decided that public discourse is secondary to the right to identify with particular groups, and that offending those groups is an offense in itself. The only solution is a level of respect and tolerance. I have every reason to tolerate and accept that neo-nazis want to march, but that doesn't mean I support them. If and when I choose to march, I don't want that right denied. We harm ourselves when we pay too much attention, and give more than reasonably legal leeway, to violent identity groups like Nazis and Antifa. Over time fringes will become more marginalized as they fight to gain the attention we should voluntarily deny them. When the mainstream press, and politicians are lauding improper conduct which proclaims free speech to be whatever they believe it is, we are providing a platform for hatred. They assume denying rights will solve all our problems. It creates more.
If I want the statues of Confederates to remain in place, I do so for one reason. It's a reminder we all make mistakes, and that history is full of bad ideas. But the removal of statues isn't important to me. It's the idea of removing them which is. Unless the concept is properly discussed, debated, and voted on by the people of the region, then removing monuments should be a non-starter. Outsiders need not rush in to make a point based on their identity group so they can grandstand. When people march to support monuments which they like, regardless of the ideologies they stand for or promote, we must remember as a nation we are open to individuals sharing all ideas, no matter how repulsive or disgusting we find the ideology. Removing a statue doesn't make the ideas behind that statue go away. If anything, it creates a cultural blindspot and a vacuum which promotes a rallying cry for true believers.

I will, however, admit some statues simply need to come down because they scare the living crap out of everyone.