The reasons for this multi-layered texture are manifold, some of which provoke more argument than I care for at this point. That discussion is for another post. Suffice to say you can still see much of the 1950's culture here, but a nation struggling desperately to be modern and up-to-date.
As a destination, it is unmatched in my travels. I loved my time in Italy, where I spent 2 weeks driving around with my family. I've spent 2 weeks in Ireland, lived in the UK, was in Austria and the Czech Republic for 2 weeks last summer, and have visited various Caribbean islands, as well as Bermuda. Cuba, however, reminds me, oddly, of Budapest. Not all of Budapest, but the portion where you step off the train and look around and think "Is this still an Eastern European Communist country?" At least when you walk through Budapest, there are portions which have been updated, kept clean, and there is revived infrastructure. Not in Havana or most of Cuba. Havana is a vibrant, fun city – but confused about what its identity is and its infrastructure is still in need of improvement.
In contrast, Vinales, the agricultural center of the nation, has amazing beauty and while it has also been stuck in the late 1950's in many ways, the rural culture hasn't required much catching up. There are plenty of new places to eat and sleep, and people are encouraged to do so. New bikes and motorcycles are available for rental, and horseback riding is a great adventure (which we sadly did not take part in). While it is the agricultural center, tobacco remains the primary product since the yellow soil is determined to be the best in the world for growing the crop.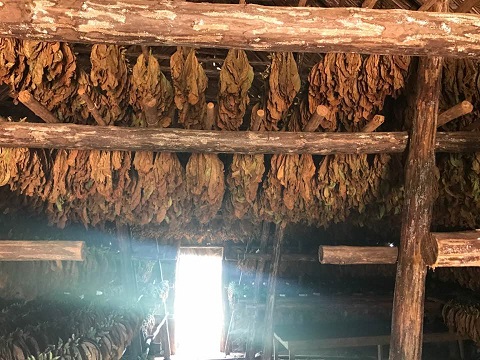 We visited a plantation where we were shown the recent harvest drying, and were told the government comes to take "90%, and we get 20%." The government takes the best tobacco for the state-certified cigars (Cohiba, Romeo y Julieta, and Monte Cristo), but you can be sure much of the best remains behind. I am not a cigar smoker, but the one hand-rolled in the drying hut was handed to me. I smoked a good portion of it before handing it to my sons. I have never had as smooth tasting a cigar as this. I savored the smoke and while cigars typically make me sick, this was almost delicious.
We walked from the drying hut and the guide showed us other fruits growing on the plantation, such as cacao (chocolate), mangos (which aren't harvested until May), papaya, and coffee. We were served rich, thick jet fuel Cuban coffee at the main house, and the guide slyly asked me "Blanco?" I replied "Si," thinking I was adding milk to mine. Instead, he handed me a shot glass of local Cuban rum that was absolutely delicious. The plantation chief was introduced to us, and was as friendly as you'd expect. He asked my two boys who was older, and the 22 year old raised his hand. "Are you rich?" My son shrugged, and said "We're American?" The chief laughed and grabbed his arm shouting "Thalia!" A beautiful young woman walked out, saw what her father was doing, smiled and waved and said "No thanks." Her father pretended to be crestfallen, "You have a handsome young American here to see you." Parents can be a pill sometimes.
This is still a very male-dominated culture. Almost all our guides whistled at the women, and one continually shouted "Hello blondie" whenever he saw a blonde. While it's clear they are generally harmless, it's a glaring differentiation in culture. US social warriors wouldn't stand for this kind of behavior.
Another differentiation is with the black people. While Cubans clearly identify as a single entity, they are not shy about the differences in outward appearance. Our tour guide in Vinales, at the end of the plantation tour, suggesting I give our plantation guide a tip, said "Hand the black boy 2-3 CUC (tourist, convertible, currency roughly pegged to the dollar), however much you want." Our guide and the plantation guide were very close friends, hugging each other heartily when they saw each other, and sharing a cigar. Yet the use of that term didn't bother the plantation guide a whit.
I contrast this with an experience I had at the Plaza de la Revolucion, where I was asked to take a picture of a young couple. When I did so, they quickly asked where I was from. I told them New York. They said "Finally! We haven't met any other Americans, mostly Canadians, so it's nice to meet someone who is from the same place." They were from Houston, a young black couple, and we shared some of our experiences and laughed about the cultural items we found amazingly different. He stated "When I was younger, I didn't appreciate living in the US. Then I joined the military and traveled and came to realize the US is one of the best places on earth to live in. I had been growing jaded recently, and coming here has reconfirmed my faith in what makes us great." I heartily agreed. I commented later to my family that it is wonderful to be able to share thoughts like that, and common travel experiences, with people who share our culture – in spite of the social justice warrior nonsense we deal with back home (sorry for the brief socio-political rant, but it helped outline part of the overall travel experience).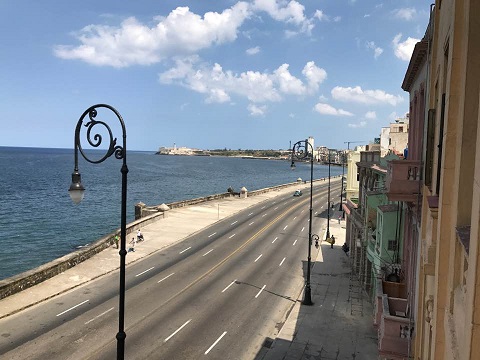 We visited the Buena Vista Social Club. My sons felt this was a tourist trap, and perhaps it is, of a sort. The meal and a show (3 ½ hours of food and entertainment) costs 60 CUC. That is extraordinarily high. But this is a government/private cooperative outlet, so the higher prices are not surprising. The food was average, at best. Nothing to get excited about. The stars who appeared are well-known in Cuban culture. They are Grammy winners, have appeared at Carnegie Hall, traveled the world as ambassadors of Cuban culture. But it is Latin American schtick, in many ways. I found it enjoyable, my wife and sons felt it was a waste of money and we left early, to my dismay. I tried to explain to my sons that as much as this was schtick, it was also an attempt to revive what made the culture great at one time. It was not unlike going to see Frank Sinatra, or Elvis Presley, in Vegas. It wasn't the real thing, but as close an approximation as you'll get today. While most of the audience was comprised of 60+ year-old denizens of cruise ships, I noticed 3 young Cuban families (the stars asked, and they all identified themselves) who were very excited to see these stars entertain them. At 60 CUC, not many Cubans can afford to visit the Buena Vista Social Club. It's easily several months of savings on a government salary, and at least a month on a private salary.
History is everywhere, and it is unavoidable. Morro Castle dominates the old Havana town (and is visible if you zoom in on the picture to the left). The Malecon (in the picture) is the social center of the city. Hemingway House is on the eastern fringes of the city, and Embassy Row on the western avenues (with Fidel and Raul having their own homes just past the western fringes of the city). Near the embassies is the eclectic art colony of Fusterlandia, which is worth a visit. We had only 5 days, and to really enjoy the rest of Cuba will require a return visit.
We didn't travel to other wonderful places like Matanzas, Cienfuegos, Trinidad, Santa Clara or Santiago. To do so would take at least 2 full weeks. I'd like to dive in the Bay of Pigs, where we are told the very best scuba diving is. I'd also like to visit the eastern tobacco regions, spend some nights in Trinidad and Cienfuegos. Another time, hopefully soon.
Cuba is not much further away than Bermuda (the flight is only about 1 hour longer, though customs adds considerable time) from NYC, but it is much less expensive than any other Caribbean destination. Flight and an AirBnb room for 4 was only $2,300 for 5 days. Breakfast in the AirBnb was optional, 5 CUC per person, each day (cheap) and we got a full meal of eggs, papaya, fresh squeezed juices (papaya, watermelon, pineapple), slices of papaya, fresh banana, coffee, tea, and fresh rolls and butter.
I didn't mention the classic cars, since they require a section on their own. They range in prices. While the average government cab is 25 CUC from the airport to Havana, a classic car will be upwards of 60. 2 additional hours will be another 60. A full day (830 am to 630 pm) will be upwards of 250. We liked our drivers and treated them to lunch. They will take you to excellent restaurants (I get the feeling there are kickbacks for bringing you to certain places), but will join you to eat only if invited. Ours spoke excellent English and had many funny stories to tell. Our primary driver, Yuri Garcia, couldn't take us to Vinales, and only showed us Havana. He avoided old town Havana, saying it's a walking tour and not fit for driving (he's right), and drove us through many other neighborhoods. He works with Classico Autos, based down by Bahia Havana.
If you have a week to spend someplace and are looking for an inexpensive locale, this is the place.