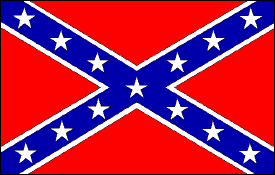 Rodham Clinton takes offence at Rebel flag. To us, it symbolizes the American rebel spirit, states' rights, and Federalism. Has nothing to do with promoting slavery. We oppose slavery, except for our own slaves (who work on this blog, and are mainly of the sort-of whitish persuasion, but with some Indian and Spanish and Italian mixed in), and God knows we believe skin color to be a big, irrelevant nothing. We happily discriminate on the basis of behavior - never on skin color or race or any of that BS.
Long may that proud flag wave for the positive things it represented... just like the Federal flag, which once flew over a slave nation, an Indian-abusing nation, an imperialist nation, etc. etc. blah blah blah evil country blah blah blah.
Woops. Did I just say that Israel was the greatest threat to world peace?
Giant mosque blocked in London.
Tiny houses the new fad? I doubt it. Althouse found the article in the NYT. Didn't we call these cabins?
Momentum shifting? Indepundit thinks so.
Multiculturalism fails again. Egypt and Abdel Karim. Can't they just be tolerant? It's nice to finally see a little judicial understanding somewhere.
Cow farts a major threat to planet. I suggest free Beano for all cattle and other ungulates. And let's kill all the Aurochs. Oh, we already did? Great. Then let's kill all the buffalo. Oh, we already did that too? Gee, great.
10% of EU households contain no-one who works. Cool, dude. Very progressive. How do we get to 100%?
Cool blog: World Climate Report. Will add to our Science blogroll.
Legal persons and limited liability. Bainbridge
Murtha in command. Novak. I hate to ask it, but is he in command of his senses?
NYT terms illegal immigrant critics Klansmen. That's one way to sell a newspaper: insult the intelligence of all of your readers. Hey -  is there a FREE Spanish edition?
New Orleans murders. Cops blame the schools. Nice try, cops.