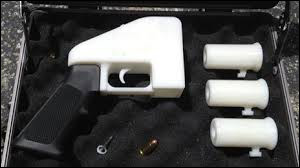 Well, you might have been wondering about 3D Printing and the Future of Stuff.

For example, you might have heard that the 3D-Printed Bionic Ear Hears Better than the Real Thing.
Yep, it's looking more and more like Your Future Will Be Manufactured on a 3-D Printer.

You also might have heard about the 3-D printed gun and, Yes, the 3-D Printable Gun Really Works.

As you'd expect, The Internet Rushes to Download 3-D Gun Blueprint.

And, given that this allows anyone with access to a 3-D printer the ability to produce a lethal, non-detectable weapon, it's no surprise that people are wondering Should Congress Impose a Ban on 3D Printed Guns?
As you might expect, until things get sorted out, the State Department Orders Firm to Remove 3D-Printed Guns Web Blueprints.
After all, this could be a pretty big deal if you understood How 3D-Printed Guns Violate International Arms Controls.

Because, as should be obvious to anyone older than ten, 3-D Printed Guns are a Boon for Criminals.

Well! You can bet the conservative blog sites didn't take too kindly to that. After all, the word "gun" is involved, which means it's a good thing — whatever the actual specific subject is.

Speaking for all of right-wing blogdom, here's Mary Katharine Ham from Hot Air:



...are the ways liberals are already dreaming up to thwart the 3-D gun.




Because, as everyone knows, anyone who opposes any aspect of guns is a dirty, rotten, scumdog liberal.



The battle over these plans touches on the Second Amendment, of course




Because, as everyone knows, what the Second Amendment is really saying is that every American has an equal right to kill any other American.



but the distribution of 3-D printing plans is a First Amendment issue




In other words, if I want to post plans on how to produce a dirty nuclear bomb in the comfort of your own kitchen, that's a First Amendment issue??
John in the comments enhanced the point:



It should also be noted that this isn't what is commonly referred to as a "gun control" issue, because those guns are detectable. A lethal, non-detectable weapon more properly comes under the heading of 'public safety', like your dirty bomb scenario.




Which is how the bloggers are viewing it, as just another gun control issue. But it's clearly not.
As long-time readers of this site know, I'm
famous
notorious for reducing complex issues down to a single question or two, and this subject is no different.
1. Would you trust your family's health to a printed plastic gun?

2. Okay, then who would use these things?

I can tell you who wouldn't:

— You, because, come that desperate moment, you're going to want a good, solid metal gun that you know will work.

— Me, because as much as the average geek would love to play with the technology, the exorbitant price of the printer puts it far out of reach.
— Common criminals, because the store owner they're trying to rob would just laugh in their face.

And who does that leave?

Really bad guys.

Bad guys who will somehow get hold of a 3-D printer because they desperately need a gun that evades metal detectors.

You know. Those types of bad guys.

As of last Friday, the CAD (Computer-Assisted Drawing) file had been downloaded over 100,000 times. In typical Internet fashion, it was on such notorious pirate sites as Pirate Bay by the time the boys from State pulled on their pants that morning, so removing it from the home site obviously didn't do much good at that point.

Nor can you blame the guy, as he's been publicly working on it for over a year, so the Feds certainly had plenty of advance notice. And he certainly wasn't the only one tinkering with the idea. His was just the first to successfully fire a bullet without also blowing off the hand of the shooter.
So, it's kind of a sticky wicket, isn't it? It appears to boil down to that old confrontation, principle versus practicality. If we assume this is, by far, a bigger boon to airline hijackers than common homeowners, then the right-wing bloggers are standing by the principle that all guns, no matter what the situation, are good.
My question is, is that really what conservatism is all about?
All guns, no matter what the situation, are good.
That's how it is?