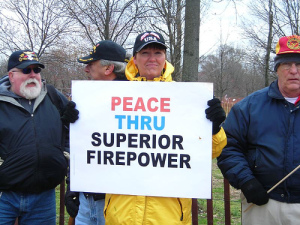 Moonbattery summarized Saturday's anti-war march in DC, as well as the much larger counter-protest - which received far less news attention. Here.
The NYT also noted than many of the marchers were puzzled by what the march was really about. Blue Crab. Most of the earnest anti-war folks were unaware that they were allied with communist revolutionaries with larger agendas. Lenin's "useful idiots."
Also, related to the links above and the piece below, Barone on the Blame America First crowd. A quote:
"They always blame America first." That was Jeane Kirkpatrick, describing the "San Francisco Democrats" in 1984. But it could be said about a lot of Americans, especially highly educated Americans, today.

In their assessment of what is going on in the world, they seem to start off with a default assumption that we are in the wrong. The "we" can take different forms: the United States government, the vast mass of middle-class Americans, white people, affluent people, churchgoing people or the advanced English-speaking countries. Such people are seen as privileged and selfish, greedy and bigoted, rash and violent. If something bad happens, the default assumption is that it's their fault. They always blame America -- or the parts of America they don't like -- first.
Read the whole fine essay. (thanks, Buddy). And read today's preceding piece: The Gospel of John and Yoko.
Image from Michelle's piece on the protests. She has lots of photos.